Queens Cosmetic Dentist Explains Why Education and Memberships Are Key to Achieving Outstanding Results for Patients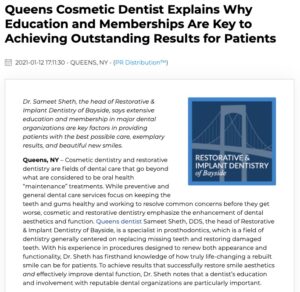 Dr. Sameet Sheth, the head of Restorative & Implant Dentistry of Bayside, says extensive education and membership in major dental organizations are key factors in providing patients with the best possible care, exemplary results, and beautiful new smiles.
Queens, NY – Cosmetic dentistry and restorative dentistry are fields of dental care that go beyond what are considered to be oral health "maintenance" treatments. While preventive and general dental care services focus on keeping the teeth and gums healthy and working to resolve common concerns before they get worse, cosmetic and restorative dentistry emphasize the enhancement of dental aesthetics and function. Queens dentist Sameet Sheth, DDS, the head of Restorative & Implant Dentistry of Bayside, is a specialist in prosthodontics, which is a field of dentistry generally centered on replacing missing teeth and restoring damaged teeth. With his experience in procedures designed to renew both appearance and functionality, Dr. Sheth has firsthand knowledge of how truly life-changing a rebuilt smile can be for patients. To achieve results that successfully restore smile aesthetics and effectively improve dental function, Dr. Sheth notes that a dentist's education and involvement with reputable dental organizations are particularly important.
Dr. Sheth says extensive primary dental education is obviously a basic necessity to ensure dentists have the knowledge and skills necessary to perform treatment; however, he adds that continuing education is also imperative, ultimately serving to provide dentists with training in new technologies and treatment techniques that allow patients to receive the most advanced care possible. For Dr. Sheth's part, the prosthodontist and cosmetic dentist in Bayside attended the New York University College of Dentistry for his Doctor of Dental Surgery (DDS) degree and thereafter pursued special training in prosthodontics, earning his certificate in that field in 2008. His particular interest and pursuit of additional education led him to become a board-certified prosthodontist. In later years, Dr. Sheth obtained a Fellowship in Maxillofacial Prosthetics at Memorial-Sloan Kettering Cancer Center, followed by completion of a Surgical Fellowship in Implant Dentistry at NYU. He says these comprehensive training programs have been crucial to enhancing his abilities to provide patients with effective treatments and outstanding results. He also says they have allowed him to broaden the selection of services at his dental practice so that patients can receive a variety of advanced treatment options, including dental implants, Invisalign® orthodontics, and even certain bone and facial reconstruction procedures, in a single location, without the need to be referred to another practice for special care. Plus, Dr. Sheth says he still regularly pursues additional dental education in order to ensure that his practice progresses along with the advancements in dental care that continue to propel the field into the future.
According to Dr. Sheth, continuing dental education leads right into the importance of the role that membership in national and global dental organizations plays in terms of the ability to provide patients with exemplary care. He explains that many organizations that he is affiliated with, such as the American College of Prosthodontists and the Greater New York Academy of Prosthodontics, embody missions that are singularly devoted to advancing treatment techniques, encouraging high professional standards, and helping dental professionals share information with each other for the benefit of both patients and doctors alike.
All in all, for individuals who are researching prospective dentists, Dr. Sheth says educational background and professional memberships are two pieces of the puzzle that should connect with others such as experience, honesty, and a compassionate chairside manner. He notes that these criteria can give patients a good starting point for evaluating dentists they are considering and determining who they feel is best able to provide them with the treatment they need and a beautiful, healthy new smile.
About Sameet S. Sheth, DDS
Dr. Sameet Sheth is a Diplomate of the American Board of Prosthodontics. He is also a Fellow of the Greater New York Academy of Prosthodontics and a member of the American College of Prosthodontists and other dental organizations. In addition to his leadership of Restorative & Implant Dentistry of Bayside, Dr. Sheth is a Clinical Assistant Professor in the Department of Prosthodontics at New York University. His practice offers a full range of cosmetic, general, and restorative dentistry options, from porcelain veneers and dental implants to periodontal care, teeth whitening, custom dental crowns, and other treatments. Restorative & Implant Dentistry of Bayside is a multi-year winner of the "Best of the Boro" honor sponsored by Bethpage Federal Credit Union, which conducts an annual poll to determine which businesses and services voters think are standouts in the community. Dr. Sheth is available for interview upon request.
For more information about Dr. Sheth and Restorative & Implant Dentistry of Bayside, please visit baysidedentalspa.com and facebook.com/Restorative-and-Implant-Dentistry-of-Bayside-214755645224164.
Contact:
Restorative & Implant Dentistry of Bayside
38-39 Bell Blvd.
Bayside, New York 11361
(718) 428-7474
Rosemont Media
(858) 200-0044
www.rosemontmedia.com
Previous Post
Next Post