Full Mouth Restoration vs. Single Tooth Restoration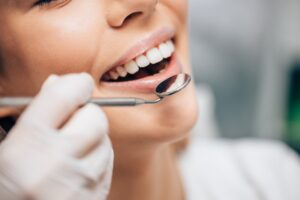 It is common for many individuals to have one or two dental concerns that can be effectively addressed with a relatively simple treatment. For example: a tooth that is chipped or structurally compromised; a tooth that exhibits signs of deep stains or discoloration; or a tooth that is badly damaged by decay, which may be causing pain or creating significant oral health problems. These are issues that can often be treated with restorative options such as porcelain veneers, root canal therapy, and/or dental crowns that can not only improve the tooth's health and function, but also its appearance. In some cases, however, an individual may have several concerns happening at the same time, and they may need or desire a more complex and comprehensive treatment, such as a full mouth restoration (also sometimes referred to as a "full mouth reconstruction" or a "full mouth rehabilitation"). Here at Restorative & Implant Dentistry of Bayside we offer a variety of advanced cosmetic and restorative dentistry procedures. We can help determine whether a single-tooth restoration or a more involved, full mouth restoration may be the best way forward.
Many tooth restoration procedures can be performed as singular treatments. In other words, a patient who has an aesthetic, functional, or dental health concern affecting one tooth or a small number of teeth may only need one or two cosmetic/restorative treatments to address it. A full mouth restoration may be the more ideal option when patients are experiencing numerous conditions that could be affecting the appearance of their smile and the health and function of their teeth. Full mouth rehabilitations are custom-designed based on the patient's unique needs, and are often performed as combination procedures. Once the patient's needs and goals are determined during the initial oral evaluation, our dentist talks with them about the best treatment options to include in the full mouth restoration. For instance: if the patient has missing teeth along with damaged or decayed teeth, as well as signs of deep stains or general discoloration, he may recommend that the full mouth restoration include dental implants, dental crowns, porcelain veneers, and teeth whitening. All options that are included in the full mouth restoration are ultimately chosen by the patient. In many cases, the procedure can be performed utilizing all of the selections in combination; in others, it may be necessary to perform the treatments in a series of staged appointments. This will be determined based on each patient's needs.
Once you meet with our dentist for an oral examination, he can talk with you about the condition of your teeth and gums and advise you on whether a tooth restoration procedure will be sufficient, or if a full mouth restoration may be the more ideal procedure in order to address a number of concerns. If your teeth and gums are in good shape already, you may not need any of those treatments! With that in mind, it is always best to remember to maintain your annual dental check-ups and cleanings (at least two per year is typically recommended) to help prevent problems in the future, and to make sure any present irregularities are addressed as soon as possible.
If you have questions, please don't hesitate to contact Restorative & Implant Dentistry of Bayside today.
Previous Post
Next Post