Periodontal Care
Home/Periodontal Care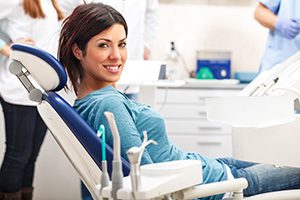 Periodontal treatments comprise a significant portion of the procedures we perform at Restorative and Implant Dentistry of Bayside. Dr. Sameet Sheth understands that the success of dental implants and other restorations relies heavily upon establishing a foundation of comprehensive dental health. For this reason, achieving healthy gums, teeth, and supportive bone tissue prior to rebuilding your smile is always the initial goal of your treatment plan. If you require periodontal treatment to repair damage caused by gum disease or tooth loss, our dentist will explain which procedures can help restore optimal tissue health and bone strength.
We have included a comprehensive list of the periodontal treatments and procedures we offer at Restorative and Implant Dentistry of Bayside below. If you are interested in treatment, we encourage you to contact our office to schedule a consultation.
Scaling and Root Planing
Scaling and root planing is commonly referred to as a "deep cleaning". During the scaling portion of the procedure, plaque, tartar, and calculus build-up are meticulously removed from between the teeth and below the gumline within the periodontal pockets. In order to reduce the size and depth of the pockets, the clean tooth roots may be smoothed by planing the root surface, which allows healthy gum tissue to re-adhere to the tooth. When the scaling and root planing is complete, antibiotics and/or antimicrobial solutions may be applied to control gum disease-causing bacteria.
Periodontal Maintenance
After completion of periodontal therapy, it is always recommended for patients to return to the office for proper hygiene and maintenance, due to the likelihood of periodontal disease returning without vigilant care. Maintenance visits are scheduled based on patient risk factors and the doctor's recommendations, usually at intervals of 3 to 4 months. These appointments help to keep the disease under control, leading to a healthier smile in the future.
Contact Restorative and Implant Dentistry of Bayside
For more information about periodontal treatments to restore the health and beauty of your smile, contact our practice and schedule a consultation with Dr. Sheth.