Porcelain veneers may be the solution you have been looking for to enhance and revitalize your smile with immediate results. At Restorative & Implant Dentistry of Bayside, the porcelain veneers our experienced team of dental professionals provide are designed to be durable, natural-looking, and comfortable. Porcelain veneers can address mild misalignment, uneven teeth, chips or cracks, stained or discolored teeth, and other concerns. Find out more about this advanced cosmetic dentistry treatment and how it can help improve your smile.

Quick Facts

About Porcelain Veneers
Porcelain veneers are some of the most popular cosmetic dentistry options available
Porcelain veneers can be ideal for some of the most common aesthetic dental conditions an individual may experience, such as chips, deep stains, and gaps between the teeth
Porcelain veneers are not "one-size-fits-all" treatments—they are custom-crafted in every case to produce the best possible fit and natural-looking results
Porcelain veneers are made with durable materials and can last decades for many patients
Our dental team has extensive experience with porcelain veneers and has helped many individuals significantly enhance the appearance of their smile with these advanced restorations
What Are Porcelain Veneers?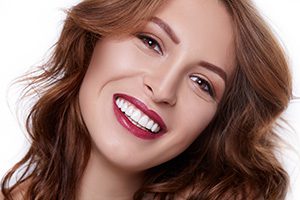 Porcelain veneers are wafer-thin shells crafted from translucent ceramic material that fit over the front sides of teeth to change their appearance and structure. By affixing a thin layer of porcelain to the front surface of the affected tooth or teeth, Bayside cosmetic dentist Dr. Sameet Sheth can conceal a wide variety of smile issues, including chipped, broken, misaligned, stained, gapped, or discolored teeth. Porcelain veneers are custom-shaped and colored to blend naturally with your surrounding teeth.
Damaged teeth and perceived cosmetic imperfections can diminish confidence in your smile and prevent you from looking your best. Porcelain veneers are one of the most popular and effective cosmetic dentistry options for changing the appearance of individual teeth or redesigning the entire smile. Whether you desire to enhance the appearance of one tooth, several teeth, or completely rejuvenate your smile, Dr. Sheth has the experience and skill to custom-design porcelain veneers that suit your unique needs and cosmetic goals.
What Are the Pros and Cons of Porcelain Veneers?
As one of the most versatile options for smile enhancement, porcelain veneers offer several significant cosmetic and restorative benefits and can be used to accomplish the following improvements:
Close gaps between teeth
Straighten the appearance of misaligned teeth
Whiten and brighten teeth with stains and deep discoloration
Repair chipped, cracked, broken, or misshapen teeth
Lengthen the appearance of short or worn teeth
Redesign your smile for a complete smile makeover
At our practice, the careful design process and high-quality materials used to fabricate veneers allow them to be very durable and stain resistant while appearing incredibly realistic. With proper care and maintenance, porcelain veneers can provide long-lasting results that will keep your smile bright and beautiful for years to come.
Prior to affixing porcelain veneers, the affected tooth or teeth must be prepared. This process involves shaping the natural tooth to ensure a comfortable, natural-looking fit. As a result, the porcelain veneers procedure cannot be reversed; however, unsatisfying veneer outcomes or damaged veneers can be improved with replacement restorations. It's also important to note that for some patients, porcelain veneers may not provide the degree of tooth restoration their dental needs require. Those with badly damaged or structurally compromised teeth are often better served by dental crowns and—in extreme cases where teeth must be removed—dental implants.
Am I a Good Candidate for Porcelain Veneers?
Good candidates for porcelain veneers are typically those bothered by chips, gaps, cracks, misalignment, discoloration, and/or irregularly shaped teeth. During your consultation, Dr. Sheth will perform a thorough oral examination to evaluate the condition of your teeth and gums. He may suggest dental or periodontal treatment, as establishing a foundation of good dental health is the first step toward achieving optimal results with porcelain veneers. Next, you and Dr. Sheth will discuss which aspects of your smile you would like to change, and he will assess whether or not veneers are the right option for accomplishing the enhancements you desire. If he determines that you are indeed a good candidate for porcelain veneers, he will develop a comprehensive treatment plan for improving your smile.
If you are not considered a good candidate for porcelain veneers, Dr. Sheth will recommend other treatments and procedures that may allow you to achieve your goals.
What Can I Expect During the Porcelain Veneers Process?
The porcelain veneers procedure begins with preparation of the teeth. Dr. Sheth carefully removes a small amount of enamel from each tooth to accommodate the thickness of the veneer. Local anesthetic may be used during this process to eliminate the potential for discomfort. Once the teeth are prepared, Dr. Sheth will create impressions that will be used to create your custom veneers. He will then place temporary veneers over your teeth while you wait for your permanent veneers to be crafted in the lab. When your new veneers have been fabricated, Dr. Sheth will bond them firmly to the front of your teeth to complete your smile.
What Will My Porcelain Veneers Results Look Like?
Dr. Sheth's extensive experience and certification in prosthodontics make him an outstanding choice for porcelain veneers and a wide range of other cosmetic and restorative dentistry procedures. Because each porcelain veneer is custom-made for a natural, vibrant, beautiful appearance, our patients are generally very pleased with the results they are able to achieve with porcelain veneers. Often, patients are surprised by how easy, comfortable, and rewarding it can be to transform their dental imperfections into a flawless, confident smile.
Porcelain Veneers vs. Dental Crowns
Porcelain veneers are typically categorized as a cosmetic dentistry option. Dental crowns also have cosmetic benefits, but they primarily serve as a restorative dentistry procedure to enhance the health and function of a damaged tooth. Porcelain veneers utilize small, thin sheaths of durable porcelain material to conceal aesthetic dental concerns, and they only cover the front and side portions of the tooth. On the other hand, dental crowns cover the entire tooth. Custom dental crowns may be the recommended option for teeth that are seriously damaged or structurally compromised since these restorations can provide reinforcement and protection from further harm while enhancing appearance, as well.
Both porcelain veneers and dental crowns offer great solutions for specific concerns, and they are custom-designed for the most natural look and fit. Our dentist can help you determine which treatment may be right for you once your teeth have been evaluated.
Porcelain Veneers and Instant Orthodontics
While orthodontic treatment is often reserved for braces, porcelain veneers may offer some patients another option. Veneers can be considered an "instant orthodontics" treatment because they are capable of quickly concealing a number of mild to moderate misalignment concerns. Braces and many traditional orthodontic treatments correct misalignment, gaps, or uneven teeth with the use of brackets and wires or other types of appliances. Those options are designed to provide gradual correction, bringing the teeth into a more desirable position over an extended period of time. With veneers, thin porcelain restorations can be placed in strategic places along the teeth to fill small gaps and address other misalignment concerns, ultimately giving the teeth a straighter appearance. Patients with more severe orthodontic issues may require Invisalign®, traditional braces, or other orthodontic procedures to achieve optimal results, but patients with milder misalignment concerns may be good candidates for porcelain veneers as an instant orthodontics treatment.
How Much Do Porcelain Veneers Cost?
When calculating the total cost for your porcelain veneers, Dr. Sheth will take into account the many variables that constitute your custom treatment plan. The number of veneers, the location of the affected teeth, materials used to fabricate the veneers, laboratory fees, and the complexity of the overall procedure can all impact the final price of porcelain veneers. At the conclusion of the consultation process, Dr. Sheth can provide you with an itemized cost quote for your customized procedure. Some of our patients choose to take advantage of dental financing options we offer at Restorative and Implant Dentistry of Bayside. We have partnered with a third-party lending company, CareCredit®, which provides low to no-interest elective healthcare loans to qualified applicants. Structured payment plans spread out the cost of care, making the treatment you desire more budget-friendly.
How Long Do Porcelain Veneers Last?
The porcelain ceramic material used to craft veneers is selected for its strength, durability, and premium aesthetics. Although there is no guaranteed lifespan for porcelain veneers, when they are properly cared for porcelain veneers can potentially last for decades. To help patients maintain optimal results for as long as possible, Dr. Sheth offers several effective tips for safeguarding porcelain veneers. For those who clench and/or grind their teeth during sleep, he often recommends a night guard that can help protect your veneers from damaging bite forces. He also advises patients with porcelain veneers to take extra caution when participating in any physical activity that can result in dental trauma. Most importantly, Dr. Sheth emphasizes good oral hygiene—daily brushing and flossing—and routine oral exams to extend the lifespan of porcelain veneers.
Are There Alternatives to Porcelain Veneers?
There are some effective alternatives to porcelain veneers for patients who would like to explore other types of treatment that can address their concerns, as well as for those who have conditions that may be better-served by another kind of dental procedure. Teeth that are affected by chips and gaps can often be treated with composite restorations. Sometimes referred to as "dental bonding," this option can fill the space by delicately sculpting a durable resin material onto the affected tooth, which can yield very natural-looking results. With this in mind, dental bonding does not usually produce results that last as long as porcelain veneers. For individuals who are primarily looking to address yellowing and discoloration, a teeth whitening treatment may be a good option. This treatment can be effective for milder degrees of discoloration, and can ultimately give the teeth a more refreshed look. Another potential alternative to porcelain veneers is a dental crown. This customized restoration is usually necessary in cases where a tooth is too structurally damaged for a veneer to provide the best solution. Dental crowns are typically best for teeth that are so compromised that they need both the aesthetic and protective benefits of a full restoration that completely covers them, giving them structural support while simultaneously enhancing their appearance.
Dr. Sheth will be happy to talk with you about all of the options available and help you determine whether porcelain veneers or another treatment is more ideal for your needs and goals.
Additional Frequently Asked Questions About Porcelain Veneers
Does insurance cover porcelain veneers?
Although in rare cases some dental insurance policies may provide coverage for porcelain veneers based on the circumstances, it is important to note that this treatment is typically considered an elective procedure and is therefore not usually covered. However, our practice accepts a full range of convenient payment methods, which include financing arrangements through CareCredit®. Qualified applicants can choose from an array of affordable payment plans that can help bring the cost of treatment into their budget.
How strong are porcelain veneers?
The materials used to create porcelain veneers are composed of an extraordinarily durable ceramic and are meticulously designed to provide strong and lasting results.
How do I care for my porcelain veneers?
Other than routine brushing and flossing, as well as attending your dental check-ups and cleanings as recommended, there is no extra care required for porcelain veneers. That said, it is important to remember that, while porcelain veneers are very durable, they are not unbreakable. Patients should try to refrain from biting down on hard foods with the veneers, and individuals who have a tendency to clench or grind their teeth while they sleep may want to consider a custom night guard, which can help prevent any damage to the veneers.
Do porcelain veneers stain?
Porcelain veneers do not stain. In fact, they are designed in such a way that makes them impervious to staining agents, allowing them to remain the exact same color that they were when originally placed.
Can porcelain veneers be whitened?
Since porcelain veneers are not susceptible to staining agents, that means they will be unaffected by bleaching agents, as well. Due to the fact that porcelain veneers cannot be whitened later, we typically recommend that patients have a teeth whitening procedure just before having veneers placed. This makes it possible for us to match the shade of the veneers to teeth that already look healthier and whiter. Individuals who currently have veneers that were placed years ago and find that they no longer match the color of surrounding teeth can have new porcelain veneers produced to provide a more seamless blend.
Do porcelain veneers hurt?
You should not experience excessive amounts of discomfort during the porcelain veneers procedure. A local anesthetic applied to the treatment area should minimize the potential for pain. You may feel some tenderness and sensitivity in the area once the anesthetic wears off, but these effects should dissipate over the next few days. In a short time following the procedure, the veneers should feel as comfortable as natural teeth.
What can I eat with porcelain veneers?
Fortunately, there are virtually no dietary restrictions necessary with porcelain veneers. You should be able to eat what you like with these strong restorations. With that in mind, there are certain items for which you should exercise a bit of additional caution. Try not to bite down on hard or sticky foods such as nuts or foods containing pits, ice, bone-in meats, hard candies, raw apples, and others with the veneers.
Are porcelain veneers permanent?
In one sense, porcelain veneers can be considered permanent since the procedure is not reversible. A small amount of tooth enamel removal and modification of the tooth before placement is typically necessary so it can comfortably accommodate the veneer with results that look and feel natural. On the other hand, while porcelain veneers are designed to provide long-lasting restoration, they are not considered permanent in terms of their longevity. However, these treatments are known to last many years—and even decades—for many patients as long as they are properly taken care of over time.
Will I have tooth sensitivity with porcelain veneers?
It is normal to experience a mild degree of tooth sensitivity after a porcelain veneers procedure. This effect should fade within one week. During this time, it can be helpful to utilize toothpaste products such as Sensodyne®, which is designed for individuals who have sensitive teeth. Fluoride mouthwash products may also be of benefit. Over-the-counter pain medication is typically all that is necessary to alleviate discomfort after a porcelain veneers treatment; however, many patients may not even require it. Additionally, we recommend that patients refrain from eating or drinking excessively hot or cold foods or beverages for a few days after the veneers are placed.
Are porcelain veneers noticeable?
Only in the best way possible! Porcelain veneers are designed to conceal aesthetic concerns such as deep stains, chips, gaps, and others, so they can be noticeable in the sense that they make the teeth look as though those conditions are not present. Veneers are custom-crafted and shaped to blend as seamlessly as possible with surrounding teeth. The goal is to enhance the affected teeth with results that look healthy and natural.
Contact our practice to schedule an appointment or learn more about porcelain veneers and other restorative dentistry options offered at Restorative and Implant Dentistry of Bayside.