What Are Porcelain Veneers?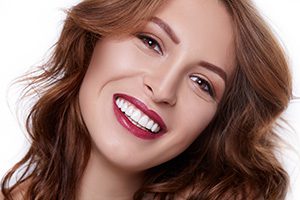 Porcelain veneers are wafer-thin shells crafted from translucent ceramic material that fit over the front sides of teeth to change their appearance and structure. By affixing a thin layer of porcelain to the front surface of the affected tooth or teeth, Bayside cosmetic dentist Dr. Sameet Sheth can conceal a wide variety of smile issues, including chipped, broken, misaligned, stained, gapped, or discolored teeth. Porcelain veneers are custom-shaped and colored to blend naturally with your surrounding teeth.
Damaged teeth and perceived cosmetic imperfections can diminish confidence in your smile and prevent you from looking your best. Porcelain veneers are one of the most popular and effective cosmetic dentistry options for changing the appearance of individual teeth or redesigning the entire smile. Whether you desire to enhance the appearance of one tooth, several teeth, or completely rejuvenate your smile, Dr. Sheth has the experience and skill to custom-design porcelain veneers that suit your unique needs and cosmetic goals.
What Are the Pros and Cons of Porcelain Veneers?
As one of the most versatile options for smile enhancement, porcelain veneers offer several significant cosmetic and restorative benefits and can be used to accomplish the following improvements:
Close gaps between teeth
Straighten the appearance of misaligned teeth
Whiten and brighten teeth with stains and deep discoloration
Repair chipped, cracked, broken, or misshapen teeth
Lengthen the appearance of short or worn teeth
Redesign your smile for a complete smile makeover
At our practice, the careful design process and high-quality materials used to fabricate veneers allow them to be very durable and stain resistant while appearing incredibly realistic. With proper care and maintenance, porcelain veneers can provide long-lasting results that will keep your smile bright and beautiful for years to come.
Prior to affixing porcelain veneers, the affected tooth or teeth must be prepared. This process involves shaping the natural tooth to ensure a comfortable, natural-looking fit. As a result, the porcelain veneers procedure cannot be reversed; however, unsatisfying veneer outcomes or damaged veneers can be improved with replacement restorations. It's also important to note that for some patients, porcelain veneers may not provide the degree of tooth restoration their dental needs require. Those with badly damaged or structurally compromised teeth are often better served by dental crowns and—in extreme cases where teeth must be removed—dental implants.
Am I a Good Candidate for Porcelain Veneers?
Good candidates for porcelain veneers are typically those bothered by chips, gaps, cracks, misalignment, discoloration, and/or irregularly shaped teeth. During your consultation, Dr. Sheth will perform a thorough oral examination to evaluate the condition of your teeth and gums. He may suggest dental or periodontal treatment, as establishing a foundation good dental health is the first step toward achieving optimal results with porcelain veneers. Next, you and Dr. Sheth will discuss which aspects of your smile you would like to change, and he will assess whether or not veneers are the right option for accomplishing the enhancements you desire. If he determines that you are indeed a good candidate for porcelain veneers, he will develop a comprehensive treatment plan for improving your smile.
If you are not considered a good candidate for porcelain veneers, Dr. Sheth will recommend other treatments and procedures that may allow you to achieve your goals.
What Can I Expect During the Porcelain Veneers Process?
The porcelain veneers procedure begins with preparation of the teeth. Dr. Sheth carefully removes a small amount of enamel from each tooth to accommodate the thickness of the veneer. Local anesthetic may be used during this process to eliminate the potential for discomfort. Once the teeth are prepared, Dr. Sheth will create impressions that will be used to create your custom veneers. He will then place temporary veneers over your teeth while you wait for your permanent veneers to be crafted in the lab. When your new veneers have been fabricated, Dr. Sheth will bond them firmly to the front of your teeth to complete your smile.
What Will My Porcelain Veneers Results Look Like?
Dr. Sheth's extensive experience and certification in prosthodontics make him an outstanding choice for porcelain veneers and a wide range of other cosmetic and restorative dentistry procedures. Because each porcelain veneer is custom-made for a natural, vibrant, beautiful appearance, our patients are generally very pleased with the results they are able to achieve with porcelain veneers. Often, patients are surprised by how easy, comfortable, and rewarding it can be to transform their dental imperfections into a flawless, confident smile.
How Much Do Porcelain Veneers Cost?
When calculating the total cost for your porcelain veneers, Dr. Sheth will take into account the many variables that constitute your custom treatment plan. The number of veneers, the location of the affected teeth, materials used to fabricate the veneers, laboratory fees, and the complexity of the overall procedure can all impact the final price of porcelain veneers. At the conclusion of the consultation process, Dr. Sheth can provide you with an itemized cost quote for your customized procedure. Some of our patients choose to take advantage of dental financing options we offer at Restorative and Implant Dentistry of Bayside. We have partnered with a third-party lending company, CareCredit®, which provides low to no-interest elective healthcare loans to qualified applicants. Structured payment plans spread out the cost of care, making the treatment you desire more budget-friendly.
How Long Do Porcelain Veneers Last?
The porcelain ceramic material used to craft veneers is selected for its strength, durability, and premium aesthetics. Although there is no guaranteed lifespan for porcelain veneers, when they are properly cared for porcelain veneers can potentially last for decades. To help patients maintain optimal results for as long as possible, Dr. Sheth offers several effective tips for safeguarding porcelain veneers. For those who clench and/or grind their teeth during sleep, he often recommends a night guard that can help protect your veneers from damaging bite forces.  He also advises patients with porcelain veneers to take extra caution when participating in any physical activity that can result in dental trauma. Most importantly, Dr. Sheth emphasizes good oral hygiene—daily brushing and flossing—and routine oral exams to extend the lifespan of porcelain veneers.
Contact Restorative and Implant Dentistry of Bayside
Contact our practice to schedule an appointment or learn more about porcelain veneers and other restorative dentistry options offered at Restorative and Implant Dentistry of Bayside.