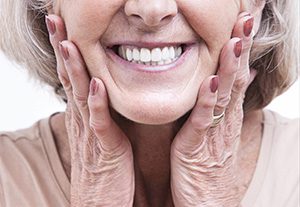 Dental implant supported dentures are overdentures that are secured in place by dental implants. This innovative solution for replacing all of the teeth in the upper and/or lower jaw offers reliable, stable, and aesthetically pleasing results that surpass the functionality of removable dentures. Secure dentures can help you smile, chew, speak, and laugh comfortably, without worrying that your dentures may slip or fall out.  The custom overdentures we offer at Restorative and Implant Dentistry of Bayside are created using high-quality materials from local laboratories.
Benefits of Implant Overdentures
For individuals who are good candidates for dental implants, implant supported dentures can provide an outstanding alternative to removable dentures. The many advantages of overdentures can include:
Added stability
Enhanced comfort
Realistic aesthetics
Decreased jaw resorption
Improved functionality
Simple hygiene and maintenance
Eat without restrictions
If you are curious about how overdentures can transform the function and esthetics of your smile, we encourage you to contact our practice to schedule a consultation with Dr. Sameet Sheth to explore your options.
The Implant Overdenture Procedure
To begin the process of restoring your smile with dental implant supported dentures, you will have a consultation with Dr. Sheth to evaluate your oral health, review your medical history, and determine if you are a candidate for dental implants. If you are in good health and have sufficient jawbone support, then Dr. Sheth will use a 3-dimensional scan of your mouth to develop a plan for where and how to place the dental implants you will require. The number of implants will depend on your unique oral structure and the type of overdentures that Dr. Sheth recommends. Dr. Sheth will explain his treatment plan step-by-step so that you have a clear understanding of how the procedure will take place. He may recommend periodontal treatments to improve your gingival health and/or build bone structure prior to implant surgery.
During surgery, Dr. Sheth will use surgical guides to place dental implants in the precise locations mapped out during treatment planning. Once this is complete, the jawbone and tissue will be allowed to heal until the bone has integrated to the implants. This process typically takes approximately two to six months, but can take longer in some situations. When the implants are fully healed, Dr. Sheth will make proper impressions and records for creating your custom overdentures. With meticulous work, the position of your occlusion (bite), the esthetics, and your speech capabilities are carefully tested and verified at a try-in appointment prior to the delivery of your new smile.
Results with Implant Overdentures
Patients who have received overdentures are generally very pleased with the results they achieve. Many who previously wore removable dentures are thrilled with the functionality of their overdentures and enjoy the added confidence and freedom they provide. As a prosthodontist with extensive dental implant experience, Dr. Sheth strives to provide his implant patients with the highest level of care and remarkable results at each stage of the procedure.
Contact Restorative and Implant Dentistry of Bayside
For more information about dental implant supported dentures, please contact our office to connect with a knowledgeable member of our team.