About Restorative and Implant Dentistry of Bayside
Home/About Restorative and Implant Dentistry of Bayside
The Office of Sameet S. Sheth, DDS
Welcome to Restorative and Implant Dentistry of Bayside, where proper therapy and conservative treatment is performed in a relaxing environment. My philosophy of therapy is based on the rigorous training I received becoming a prosthodontist (a specialist in aesthetic and functional replacement of parts of a tooth, an entire tooth, or a full mouth). While everyone generally wants a whiter smile, I go beyond pure aesthetics to examine how each patient's function, anatomy, and personal habits impact the longevity of any therapy. This allows me to anticipate future problems when planning treatment, which can lead to a healthier, more proper result long-term.
By working together with other experienced specialists, I strive to provide patients with comprehensive dental and periodontal treatment that can eliminate and control oral and gum diseases, give them the confidence to smile, and lead to an improved quality of life.
Your experience at Restorative and Implant Dentistry of Bayside begins with a consultation, during which we will thoroughly review your medical and dental history, perform a radiographic evaluation, complete a clinical evaluation, and then prepare comprehensive diagnostic records. The first phase of your customized treatment plan will be aimed at eliminating and controlling any disease detected during your examination. Next, we will present a plan for completing the restorative dentistry you need. The initial evaluation process is critical to proper treatment planning and, in some cases, can extend beyond the length of one visit, to provide the opportunity for accurate diagnosis and assessment. Based on our findings, we will develop a customized treatment plan that specifically addresses your needs and desires, to deliver a healthy, long-lasting restoration.
At Restorative and Implant Dentistry of Bayside, patient therapy is completed in a timely and relaxed manner. When planning your treatment, your time and schedule are taken into consideration. We offer both early morning and late evening appointments, where therapy never has to be rushed. Our goal is to make treatment conveniently accessible to all our patients who want to achieve healthy smiles and proper dental function they can depend on.
Meet Sameet S. Sheth, DDS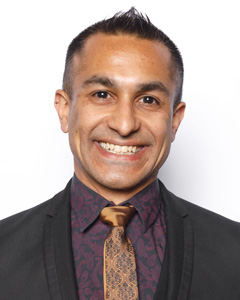 Dr. Sameet S. Sheth received his DDS degree from New York University College of Dentistry in 2005, where he graduated at the top of his class and was inducted into the honor society Omicron Kappa Upsilon. Dr. Sheth then received his certificate in prosthodontics at NYU in 2008. While in this prosthodontic program, he served as Chief Resident in his final year. In 2009, Dr. Sheth continued his training with a Fellowship in Maxillofacial Prosthetics at Memorial-Sloan Kettering Cancer Center. He then completed a final Surgical Fellowship in Implant Dentistry at NYU in 2011. Dr. Sheth currently serves as a Clinical Assistant Professor at NYU in the Department of Prosthodontics.
Awards
During his prosthodontic training, Dr. Sheth received the Kenneth I. Adisman Award for Excellence in Prosthodontics. He was also awarded second place at the American Academy of Maxillofacial Prosthetics annual session in 2009 for his presentation on dental implants in the maxillofacial patient.
Memberships
In addition to being a Diplomate of the American Board of Prosthodontists (an honor he received in 2013), Dr. Sheth is an active member of several prestigious professional organizations:
American College of Prosthodontists
Fellow of the Greater New York Academy of Prosthodontics
What is a Prosthodontist?
A prosthodontist is a dentist who focuses on rebuilding damaged tooth structure, replacing missing teeth, creating a functional bite, and enhancing smile aesthetics through the design, manufacturing, and placement of custom restorations. In addition to completing four years of dental school, prosthodontists have received three years of advanced training in a graduate program accredited by the American Dental Association (ADA). With the goal of achieving optimal oral health, function, and beauty, a prosthodontist's service offerings may include implant surgery, cosmetic and restorative dentistry, periodontal care, bone grafts, and various general dental care services.
Why Should I Choose a Board-Certified Prosthodontist?
Not all who complete the required post-graduate coursework to become a prosthodontist achieve board certification. A board-certified prosthodontist has passed a rigorous four-part exam given by the American Board of Prosthodontics (ABP) and must recertify every eight years to remain current. Those who pass the exam are called Diplomates of the American Board of Prosthodontics, which distinguishes them as individuals who possess the advanced training, skills, attributes, and knowledge necessary to practice with excellence and represent the field of prosthodontics.
A board-certified prosthodontist offers the following benefits:
Most up-to-date skills, knowledge, and techniques
Proven proficiency in prosthodontics
Ongoing commitment to continuing education coursework
Lifelong dedication to ethical conduct
Devotion to advancing the field of prosthodontics
Board-certified prosthodontists are at the forefront of dental innovation and continue to advance the science, ethical code, and practice of prosthodontics. When you choose a board-certified prosthodontist, you can be assured that he or she has met the highest professional standards in the field.
Dr. Sheth was honored to become a Diplomate of the American Board of Prosthodontics in 2013 and continues to be an active participant in other prominent professional organizations, including the American College of Prosthodontists.
How to Select the Best Dentist for Aesthetic and Complex Dental Needs
Choosing the best dentist for achieving your dental goals often begins with online research. This preliminary investigation then leads to contact with practices by phone or email, and may eventually result in a personal consultation. We suggest using these questions as a guideline when reviewing potential candidates:
Does the dentist have proper credentials and a trustworthy background?
How many years have they been in practice?
Does the practice utilize advanced technology? If so, what kind?
Is a thorough diagnostic examination performed before a treatment plan is developed?
Does the dentist advocate a phased approach for treating complex cases?
Does the dentist perform the procedures you would like to have done? How many cases similar to yours have been completed?
Does the practice have an in-house dental lab or an established relationship with a trusted dental lab?
Are restorations created using high-quality materials that offer both durability and natural-looking aesthetics?
Are before-and-after photos of patients who have undergone treatment available?
What do former patients say about their experiences in testimonials and online ratings and reviews?
It is most important that you choose a dentist you feel comfortable with and confident in. He or she should clearly understand your needs and be able to communicate the treatments that can achieve your goals with healthy, functional, long-lasting results. We suggest not letting the price of care be the main determining factor in who you choose for treatment―especially when complex treatment is required. Be aware that selecting a dentist who offers bargain pricing may cost you a considerable amount in repairs, replacements, and inconvenience in the future. While experienced practitioners who deliver state-of-the-art care with high-quality material typically require more of an up-front investment, the results may last for decades.
Contact Restorative and Implant Dentistry of Bayside
If you are interested in high-quality, comprehensive dental care, we encourage you to contact our office to schedule a consultation with Dr. Sheth. Whether you are interested in porcelain veneers, dental implants, or other types of treatment, our dentist has the skill and expertise to help you achieve optimal dental health, function, and aesthetics.