About Restorative and Implant Dentistry of Bayside
Home/About Restorative and Implant Dentistry of Bayside
The Office of Sameet S. Sheth, DDS
Welcome to Restorative and Implant Dentistry of Bayside, where proper therapy and conservative treatment is performed in a relaxing environment. My philosophy of therapy is based on the rigorous training I received becoming a prosthodontist (a specialist in aesthetic and functional replacement of parts of a tooth, an entire tooth, or a full mouth). While everyone generally wants a whiter smile, I go beyond pure aesthetics to examine how each patient's function, anatomy, and personal habits impact the longevity of any therapy. This allows me to anticipate future problems when planning treatment, which can lead to a healthier, more proper result long-term.
By working together with other experienced specialists, I strive to provide patients with comprehensive dental and periodontal treatment that can eliminate and control oral and gum diseases, give them the confidence to smile, and lead to an improved quality of life.
Your experience at Restorative and Implant Dentistry of Bayside begins with a consultation, during which we will thoroughly review your medical and dental history, perform a radiographic evaluation, complete a clinical evaluation, and then prepare comprehensive diagnostic records. The first phase of your customized treatment plan will be aimed at eliminating and controlling any disease detected during your examination. Next, we will present a plan for completing the restorative dentistry you need. The initial evaluation process is critical to proper treatment planning and, in some cases, can extend beyond the length of one visit, to provide the opportunity for accurate diagnosis and assessment. Based on our findings, we will develop a customized treatment plan that specifically addresses your needs and desires, to deliver a healthy, long-lasting restoration.
At Restorative and Implant Dentistry of Bayside, patient therapy is completed in a timely and relaxed manner. When planning your treatment, your time and schedule are taken into consideration. We offer both early morning and late evening appointments, where therapy never has to be rushed. Our goal is to make treatment conveniently accessible to all our patients who want to achieve healthy smiles and proper dental function they can depend on.
Sameet S. Sheth, DDS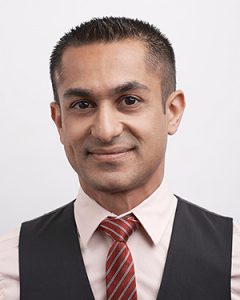 Dr. Sameet S. Sheth received his DDS degree from New York University College of Dentistry in 2005, where he graduated at the top of his class and was inducted into the honor society Omicron Kappa Upsilon. Dr. Sheth then received his certificate in prosthodontics at NYU in 2008. While in this prosthodontic program, he served as Chief Resident in his final year. In 2009, Dr. Sheth continued his training with a Fellowship in Maxillofacial Prosthetics at Memorial-Sloan Kettering Cancer Center. He then completed a final Surgical Fellowship in Implant Dentistry at NYU in 2011. Dr. Sheth currently serves as a Clinical Assistant Professor at NYU in the Department of Prosthodontics.
Awards
During his prosthodontic training, Dr. Sheth received the Kenneth I. Adisman Award for Excellence in Prosthodontics. He was also awarded second place at the American Academy of Maxillofacial Prosthetics annual session in 2009 for his presentation on dental implants in the maxillofacial patient.
Memberships
In addition to being a Diplomate of the American Board of Prosthodontists (an honor he received in 2013), Dr. Sheth is an active member of several prestigious professional organizations:
American College of Prosthodontists
Academy of Osseointegration
Contact Restorative and Implant Dentistry of Bayside
If you are interested in high-quality, comprehensive dental care, we encourage you to contact our office to schedule a consultation with Dr. Sheth. Whether you are interested in porcelain veneers, dental implants, or other types of treatment, our dentist has the skill and expertise to help you achieve optimal dental health, function, and aesthetics.