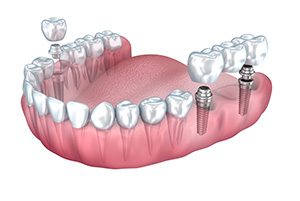 Replacing missing or badly damaged teeth with dental implants can not only restore a beautiful smile – they can also rebuild a strong, healthy bite, improve facial structure, and boost self-confidence. To achieve proper placement of dental implants, multiphase treatment plans are sometimes required. Some patients require additional procedures to rebuild adequate jawbone and facial structure for proper support of the dental implants. To attain the highest-quality results, these complex procedures are typically best-handled by a prosthodontist with expertise in all stages of implant treatment. Our dentist and prosthodontist, Sameet Sheth, DDS, FACP, has extensive experience and advanced training in implant dentistry. He is also skilled in performing a wide range of bone grafting procedures that can restore diminished jawbone volume and structure. His proficiency in these restorative and reconstructive techniques allow him to create superior results with dental implants. The goal for every patient is to achieve optimal oral health and long-lasting, natural-looking dental implants that function beautifully.
Learn more about the dental implant options and bone grafting procedures we offer at Restorative and Implant Dentistry of Bayside by exploring the informative sections provided below.
Extractions and Socket Preservation with Bone Graft and Membrane
When teeth are extracted due to extensive decay, trauma, or other reasons, preserving the socket with bone grafting material can offer significant advantages. Socket preservation performed immediately following tooth extraction can prevent both the formation of a dry socket and minimize bone loss that occurs when a permanent tooth is removed. It allows the maximal amount of bone volume for proper placement of dental implants, and also allows the widest possible implant to be placed, which is important for the long-term stability of the restoration.
Implant Restorations
Secure Dentures
With secure implant dentures, our patients are able to enjoy full arch replacements that look, feel, and function much like natural teeth. Using titanium dental implants designed to fuse with the jawbone once healed, upper and/or lower overdentures can be held firmly in place to restore a full smile with beautiful, reliable results. Secure dentures can eliminate slippage, improve comfort, boost confidence, and provide the freedom to eat all the foods you love without worry. For individuals who may not be good candidates for tooth replacement with individual dental implants due to lack of jawbone support, implant dentures can provide an attractive alternative.
Fixed Dentures
An implant fixed denture is a full arch restoration using multiple implants to stabilize a fixed denture or bridge, which is not removable by the patient. It is the closest thing to having your natural teeth again, where function and aesthetics are fully restored.
Restoring Bone and Facial Structure
Jawbone loss can be an unfortunate side effect of tooth loss and advanced gum disease. Atrophy of this supportive bone structure can undermine the health and position of surrounding teeth and progressively change the shape of the face. With a variety of bone grafting techniques, including sinus augmentation and ridge expansion, Dr. Sheth can skillfully rebuild depleted jawbone structure to restore facial proportions and provide healthy support for dental implants.