Dental Implants
Replacing missing or badly damaged teeth with dental implants can not only restore a beautiful smile – they can also rebuild a strong, healthy bite, improve facial structure, and boost self-confidence. To achieve proper placement of dental implants, multiphase treatment plans are sometimes required. Some patients require additional procedures to rebuild adequate jawbone and facial structure for proper support of the dental implants. To attain the highest-quality results, these complex procedures are typically best-handled by a prosthodontist with expertise in all stages of implant treatment. Our dentist and prosthodontist, Sameet Sheth, DDS, FACP, has extensive experience and advanced training in implant dentistry. He is also skilled in performing a wide range of bone grafting procedures that can restore diminished jawbone volume and structure. His proficiency in these restorative and reconstructive techniques allow him to create superior results with dental implants. The goal for every patient is to achieve optimal oral health and long-lasting, natural-looking dental implants that function beautifully.
For more about dental implants, we encourage you to review the informational sections below and continue exploring our site. If you would like to schedule a consultation with Dr. Sheth, please contact our office.
Why Choose Dr. Sheth for Dental Implants?
Dr. Sheth is a board-certified prosthodontist. Prosthodontics is a field of dentistry that specializes in the replacement of missing teeth. 
Dr. Sheth is capable of performing all aspects of the dental implant procedure—from the intricate treatment planning to the placement of the implants and the custom dental crowns—right here at our practice. 
Dr. Sheth has been performing comprehensive dental implant procedures for over 10 years. 
Dr. Sheth has placed more than 400 dental implants in his career. 
Dr. Sheth is a Diplomate of the American Board of Prosthodontics and a member of the American College of Prosthodontists. 
Dr. Sheth firmly believes in honest and forthright communication with each patient. He will thoroughly explain the treatment process and will never recommend a treatment that will not be in the patient's best interests.
What Are Dental Implants?
A single tooth dental implant is comprised of a titanium post that is surgically implanted into the jawbone (to mimic the function of a natural tooth root) and a crown. Over time, the post fuses with the bone tissue, which provides exceptional stability for the implant restoration. Once completely healed, a customized porcelain crown implant restoration is attached to the top of the post for a secure, functional, natural-looking tooth that is virtually indistinguishable from your other teeth. Dental implants can also be used to secure larger dental restorations in place, such as bridges and full-arch dentures.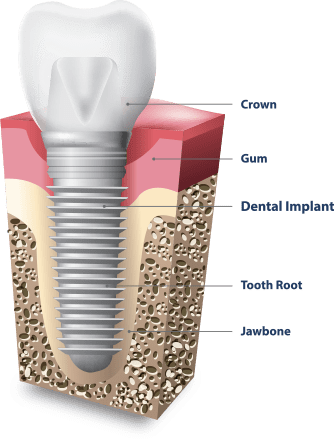 What Are the Benefits of Dental Implants?
Dental implants offer a number of practical advantages over traditional dentures and fixed bridges. Because they are permanently anchored into your jaw, dental implants can look, feel, and function like natural teeth. Unlike ill-fitting dentures, which can slip and move along the gum line, dental implants are secure and stable. Dental implants are self-supporting, which means that the structure of your surrounding teeth does not have to be prepared as with a traditional fixed bridge. Or, if you have no remaining natural teeth, they can be used to stabilize custom dentures. In addition, dental implants are remarkably convenient, requiring a similar hygiene routine of brushing, flossing, professional hygiene, and regular dental examinations. In virtually every way, dental implants allow you to regain the control and assurance you had with your natural teeth.
Dental Implants vs. Dentures
Dental implants and conventional dentures are very different types of restorative treatment options; however, they both share the same goal: to successfully replace missing teeth. With that in mind, there are numerous distinctions between the two that can make one a more ideal solution than the other for certain patients. A dental implant is designed to serve as a comprehensive replacement for a missing tooth, ultimately mimicking the form and function of a natural tooth and becoming a permanent part of the mouth. By contrast, dentures are oral appliances. While there can be some exceptions, traditional dentures are typically removable. Unlike dental implants, full dentures sit atop the gums and usually require special adhesives to remain in place. This can be a disadvantage when compared with dental implants, which are designed to remain stable and secure without the need for pastes or putties to keep them from slipping along the gums. In some cases, the restorative benefits of both dentures and dental implants can be combined into what's known as an implant denture (described in the section below). This can provide patients with more security for their dentures by attaching them to just a few dental implants, significantly reducing the need for a denture adhesive.
While dental implants are often presented as the more desirable alternative when compared to conventional dentures, it is important to note that dentures can still be an exceptional option for some patients, particularly for those who are not ideal candidates for dental implants. Advances in restorative dental appliances have made it possible to craft custom dentures (both full and partial varieties) that consistently fit well and successfully address the many concerns that missing teeth can cause.
During your initial consultation, our prosthodontist will conduct a comprehensive oral examination and talk with you about whether dental implants, dentures, or a combination of the two will be best for your needs.
What Types of Dental Implants Are Available?
There are three main types of dental implant options: single tooth implants, multiple teeth dental implants, and implant dentures. During the consultation process, you will learn which type of dental implants are best suited for your needs.
Single Tooth Implants

Single tooth implants are designed to replace an individual tooth. If you and your dentist choose single tooth implants to replace several teeth simultaneously, one titanium post and one dental crown will be used for each missing tooth. Each implant crown is custom-made to fit comfortably and function like a natural tooth. The color of the restoration is also customized to match your surrounding teeth for a beautiful, uniform appearance.

Multiple Teeth Dental Implants

For patients who are missing several adjacent teeth, two or more dental implants can be used to hold a custom implant bridge restoration firmly in place. Multiple teeth dental implants can serve as an alternative to a fixed bridge or partial denture. Depending upon the number of missing teeth and the jawbone density of the patient, Dr. Sheth may recommend two to six dental implants to ensure a comfortable, secure fit.

Implant Dentures

An implant denture is used to replace an entire row of teeth. This fixed alternative for removable dentures can replace the upper and/or lower arch. When both arches are replaced, the procedure is sometimes referred to as a full-mouth restoration. Depending upon the patient's jawbone density, two to six implants may be used to secure the custom denture. Implant dentures may also be a good alternative for patients who are not good candidates for a full set of single tooth implants.
Who Is a Candidate for Dental Implants?
If you are interested in having dental implant surgery, you will first meet with Dr. Sheth, who will evaluate your oral and overall health to determine whether you are an appropriate candidate for therapy. Most patients with generally good health and adequate jawbone width and height are suitable for the procedure. If you require bone grafting to create a more stable foundation for dental implants, Dr. Sheth can perform those procedures. For those patients willing or able to devote the necessary time, dental implant surgery is currently one of the most effective and consistently successful of all dental procedures.
Are Preliminary Treatments Required for Dental Implants?
Dr. Sheth's ultimate goal is to place dental implants that can be healthy and long-lasting. Prior to implant placement, Dr. Sheth may recommend preliminary treatments aimed at creating a strong, healthy foundation for dental implants. This initial phase of treatment may include procedures to improve your dental health, extract teeth, and/or prepare your jawbone for implant surgery. Not all patients will require these treatments; however, having these options available in-house can be very beneficial and convenient.
Extractions and Socket Preservation with Bone Graft and Membrane

When teeth are extracted due to extensive decay, trauma, or other reasons, preserving the socket with bone grafting material can offer significant advantages. Socket preservation performed immediately following tooth extraction can prevent both the formation of a dry socket and minimize bone loss that occurs when a permanent tooth is removed. It allows the maximal amount of bone volume for proper placement of dental implants, and also allows the widest possible implant to be placed, which is important for the long-term stability of the restoration.

Restoring Bone and Facial Structure

Jawbone loss can be an unfortunate side effect of tooth loss and advanced gum disease. Atrophy of this supportive bone structure can undermine the health and position of surrounding teeth and progressively change the shape of the face. With a variety of bone grafting techniques, including sinus augmentation and ridge expansion, Dr. Sheth can skillfully rebuild depleted jawbone structure to restore facial proportions and provide healthy support for dental implants.
How Are Dental Implants Placed?
Composed of a titanium alloy, dental implants are artificial tooth roots that are placed into your jaw. All surgeries and implant placements are typically performed right here in our office by Dr. Sameet Sheth. Using 3-dimensional CAT scans and guides, the surgery is digitally planned and customized for each patient. Based on this virtual surgical plan and the use of guides, the implants are placed within your jawbone and then allowed to heal and integrate with the bone. Proper osseointegration and soft tissue repair can take between two to six months (or sometimes longer) depending on your unique rate of healing. During this time, Dr. Sheth will provide you with a temporary prosthesis to minimize inconvenience and conceal your healing implants. When you are completely healed, he can attach custom crafted crowns, bridges, or dentures to the titanium roots to complete your new smile.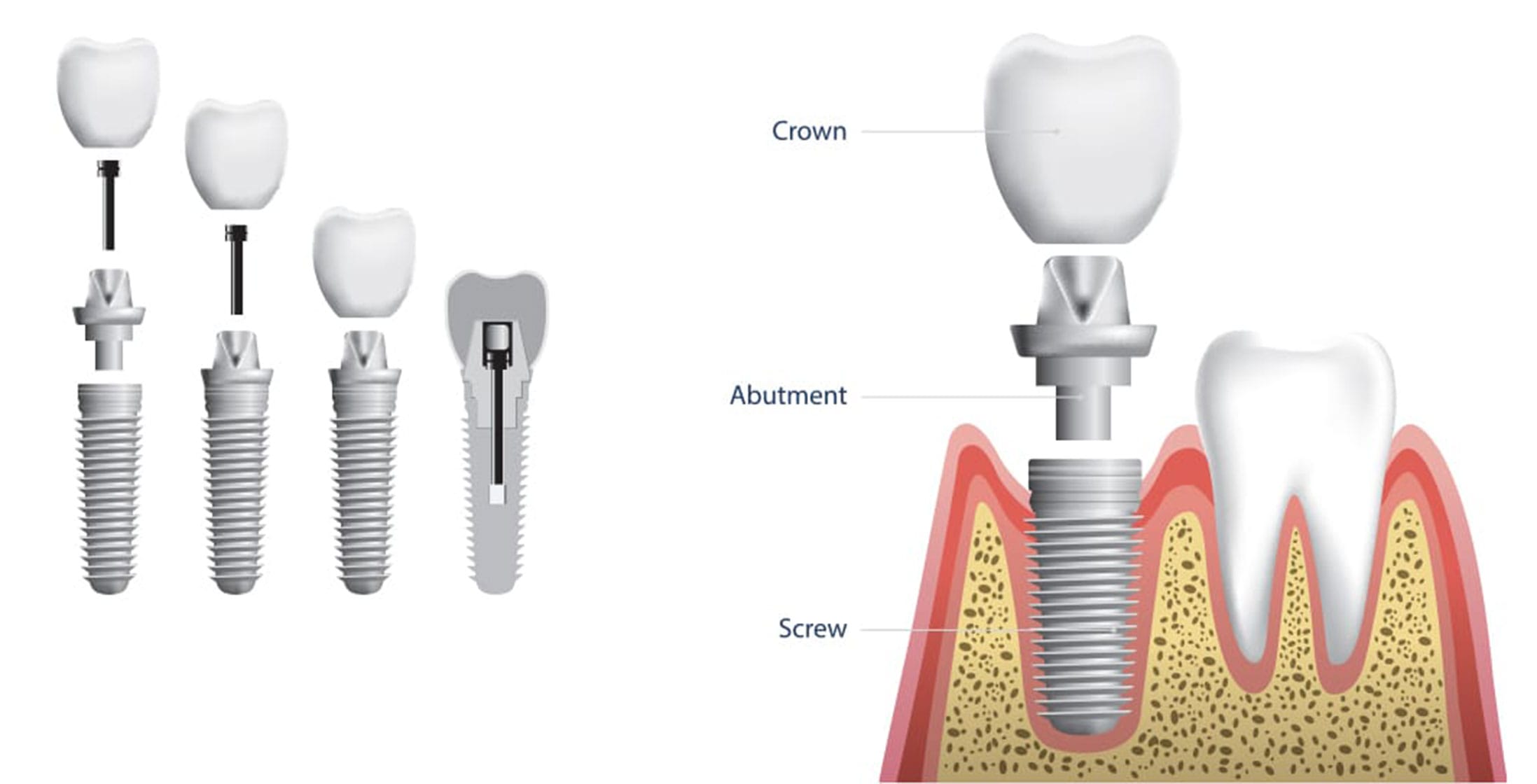 Dental Implant Before-and-After Photos
By offering dental implants to our patients, we are able to restore the function, appearance, and feel of missing teeth with outstanding results. Dr. Sheth's level of skill and extensive experience with dental implants makes him a superior choice for performing your implant surgery and restoration. At every stage of treatment, he is attentive to your progress and concerns, and works tirelessly to provide the highest quality outcome. To view the type of results that can be achieved with dental implants, please visit our smile gallery.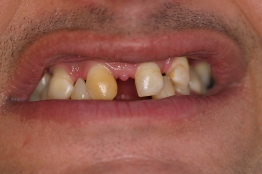 Before
After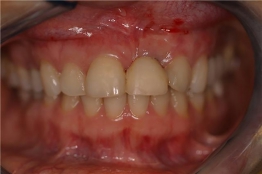 Before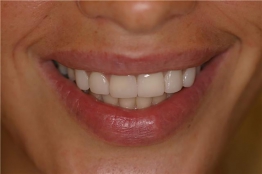 After
"Dr. Sameet Sheth is an excellent dentist. He inspires the utmost confidence and has a wealth of knowledge. He takes the time to explain every procedure and he is a professional. I would highly recommend Dr. Sheth to everyone. He is the best dentist I have ever had. He also has a wonderful and caring staff. I am truly honored to call him my dentist."
~Marie P.
How Long Do Dental Implants Last?
Dental implants should last a lifetime with minimal maintenance. Once the titanium post becomes fused with the jawbone, the dental implant is considered a permanent part of the mouth. If the custom restoration that is attached to the dental implant becomes damaged or worn it can be repaired or replaced. It is important to note that the restorations we create from high-quality materials are designed to last for decades. Dr. Sheth recommends that patients who habitually grind or clench their teeth consider wearing a night guard while they sleep. This type of oral appliance is designed to protect the teeth—and any restorations—from potentially damaging bite forces. In addition, good oral hygiene and routine cleanings are also essential for maintaining dental implants. No additional daily maintenance is needed beyond brushing, flossing, and rinsing. Attending twice-yearly oral exams can give your dentist the opportunity to detect any problems with your implants and promptly correct them. Dental implants should last a lifetime with minimal maintenance.
Are Dental Implants Safe?
Dr. Sheth's extensive training and experience with prosthodontics and implant dentistry, along with the meticulous planning and precautionary measures he employs for every procedure, can make dental implants treatment as safe as possible. With that in mind, it is important to remember that dental implant procedures require oral surgery, and all surgical treatments involve a certain degree of risk. Dr. Sheth utilizes very precise techniques, as well as state-of-the-art technology for accurate treatment planning and implant placement, that can reduce the potential for implant failure, infection, or other possible complications associated with this procedure. He will also provide you with detailed post-operative guidelines with instructions that can help minimize risks and maximize the likelihood of successful results.
Do Dental Implants Hurt?
Dr. Sheth will numb the treatment area with a local anesthetic, which is often quite enough to reduce the potential for pain during treatment. If you are prone to high levels of dental anxiety, sedation dentistry options available at our practice can help you experience the most relaxed and comfortable procedure possible.
Are There Alternatives to Dental Implants?
Dental implants are typically considered to be the gold standard for tooth replacement. Unfortunately, not all patients are ideal candidates for dental implants since sufficient jawbone density is necessary to support the titanium posts. For patients who desire the benefits of dental implants but are not good candidates for single tooth dental implants, we offer a range of other alternatives.
Implant dentures
can support a full arch of replacement teeth with four to six strategically placed titanium posts, and even patients with reduced jawbone density can be good candidates for this approach. The full arch restorations are locked onto the dental implants for excellent stability, reliability, and natural-looking results without the need for messy pastes or adhesives. Fixed dentures and implant supported bridges can also be good options for patients seeking a more secure version of a traditional removable denture, bridge, or partial. For many patients, implant dentures and bridges feel like having their natural teeth restored. In cases where dental implants of any kind are not recommended, bonded bridges and custom removable dentures and/or partials may still be the best option for replacing missing or badly damaged teeth.

After a thorough oral exam and a discussion of your goals, Dr. Sheth can recommend which tooth replacement options are best suited for your needs. At Restorative and Implant Dentistry of Bayside, all implant procedures and restorations are highly customized to give our patients a full, healthy, and beautiful smile.
How Much Do Dental Implants Cost?
The average price for a single tooth implant at our practice ranges from $5,000-$7,000. Since every dental implant procedure is customized based upon the individual patient's needs, there is no fixed price for dental implants. There are many variables that can impact the total cost of dental implants, including the number of missing teeth, any necessary preparatory procedures (i.e. tooth extractions, periodontal treatments, or bone grafts), the type of dental implants and restorations selected, and the number of implants that are needed to secure the restoration. After an oral exam and a discussion of your goals and expectations, Dr. Sheth can give you a quote for the cost of your customized procedure. The average price for a single tooth implant at our practice ranges from $5,000-7,000. Patients who would like to make the cost of their treatment more affordable may consider applying for dental financing through a third-party company we've partnered with. This lender can provide low monthly payment plans with little to no interest for qualified applicants. To learn more about financing the cost of your dental implants, please contact a knowledgeable member of our staff.
How Do I Choose the Best Implant Dentist?
You can maximize the chances that you will choose the best implant dentist for your needs by narrowing your selection down to individuals who have proven skills and experience with dental implant placement. Here are a few things to evaluate during your search:
Experience, Background, and Credentials
As you conduct your research, it's a good idea to thoroughly review the prospective dentist's training and educational background, and to inquire as to how many of these treatments they have performed. Remember: dental implants are major procedures that require precision and meticulous attention to detail. It is necessary to find a doctor who is properly trained and experienced with these treatments and who has a record of successful outcomes.
Patient Reviews and Before-And-After Photos
Before-and-after photos and patient reviews can also provide you with information regarding the dentist's skills and abilities. Viewing the results of patients who have had treatment from the doctor you are considering can give you a small glimpse of the doctor's capabilities. By the same token, reading reviews of the doctor or the practice can also help you obtain a general idea of their approach to care and the outcomes experienced by other patients.
Success Rate
You should ask about the dentist's success rate with dental implants, and whether they utilize advanced treatment planning technologies to ensure the most precise and careful placement of the implants. For example, our prosthodontists utilize technology such as the Medit i700 digital scanner, 3D imaging technology, and other state-of-the-art diagnostic and planning tools to create a precise and accurate surgical guide. This can significantly increase the chances of successful results that feel like natural teeth.
Rapport and Approach to Care
Once you have researched your options for implant dentists and have narrowed down your selection, the final step to choosing your dentist is scheduling an initial consultation. This meeting is one of the most important parts of the process as it allows you to evaluate the doctor's overall approach to care and begins establishing a rapport. You should always feel that the doctor is honestly and comprehensively answering your questions and responding to your needs and concerns. You should also feel absolutely confident in the dentist's skills and abilities from the outset. Dental implant procedures require genuinely collaborative relationships between the doctor and the patient in order to achieve the best results, and dentists should welcome your questions and discuss all aspects of the process in detail.
Please feel free to review Dr. Sheth's biography for an overview of his experience and commitment to the best possible dental implant results. We also invite you to contact us if you have additional questions.
Additional Frequently Asked Questions About Dental Implants
Are dental implants covered by insurance?

Some insurance policies may offer a certain amount of coverage for dental implants. We can assist you with questions regarding your insurance provider and whether dental implants are a covered benefit under your policy.

Do dental implants look natural?

One of the most prominent benefits of dental implants is their ability to look natural. In fact, these customized restorations should be virtually indistinguishable from natural teeth, both in appearance and function.

How do I clean dental implants?

The process involved in cleaning dental implants is another major benefit of this innovative tooth replacement option. Dental implants require absolutely no extra maintenance aside from your normal oral hygiene routines. Brushing at least twice a day and flossing at least once a day, along with attending the recommended number of dental check-ups each year, is typically all that will be necessary to keep your implants clean, functional, and beautiful long into the future.

How long does it take to get dental implants?

The dental implant treatment process involves multiple stages. When the implants are first placed, the period of osseointegration (when the implant fuses to the jawbone) typically ranges from about two to six months. In most cases, temporary crowns can be affixed to the implant posts during this time. Once Dr. Sheth has established that the implant has successfully integrated with the bone, the permanent custom crown can be affixed to the top of the implant. When Dr. Sheth has placed the crown and examined it to ensure the best fit, function, and appearance, the dental implant procedure is complete.

Does smoking affect dental implants?

Yes. It is very important to note that smoking can dramatically raise the risk of infection, and it can significantly prolong the healing period, as well. In addition, research has found that there may be a link between smoking and the failure of dental implants. Patients who are undergoing a dental implant procedure are advised to quit smoking at least one month before implant placement, and it is recommended that they have a plan in place to make sure they do not resume smoking after treatment.

How do dental implants feel? 

The goal of dental implants is to provide results that are virtually identical to natural teeth in every way. Once the treatment process is complete, a dental implant should look, feel, and function as though the original tooth was never lost.

How successful are dental implants?

The success rate of dental implants is often extremely high when the procedure is performed by skilled and experienced implant dentists and when patients follow post-operative instructions designed to facilitate proper healing. Taking excellent care of your oral health, keeping your dental appointments for routine exams and cleanings, and avoiding the use of tobacco products can go a long way toward ensuring your dental implants will continue brightening your smile for decades to come.

How many dental implants will I need?

The total number of implants that will be necessary to achieve one's individual goals will be determined by a number of different factors. Dr. Sheth will consider how many teeth are missing, the current level of jawbone density in the area of missing teeth, and whether you are opting for full dental implant replacement, an implant-supported denture, or other implant-based treatment option. Once your oral structures have been evaluated during the initial consultation, Dr. Sheth can explore your options with you.

Are there certain foods I should avoid?

In the long-term, there are virtually no restrictions on the types of food you should eat with dental implants. This is another aspect of dental implants that often makes them a preferable alternative to more conventional missing teeth replacement techniques, such as traditional dentures. With this in mind, it is important to note that certain precautions will need to be taken in the period immediately following dental implant placement. Dr. Sheth will recommend a soft-food diet for a few days after the procedure; this can be useful for limiting the possibility of hindering the healing process. When the treatment areas have adequately healed, most individuals can resume their normal diet. That said, please remember to exercise caution when eating hard foods since excessive force on the custom crowns (or even on natural teeth) may damage them or prematurely wear them down.

When is it too late to get dental implants?

For most patients, it is virtually never too late to replace missing teeth with dental implants. Advances in restorative dentistry and prosthodontics have made it possible for many individuals who may have been previously told they were not ideal candidates for this procedure to now qualify. In many cases, patients who lack the bone density necessary to securely hold a dental implant can have bone grafting treatment performed, which can establish a stronger foundation for the implant. For some individuals, dental implants may not be the best option; however, these days, more people are eligible for these treatments than ever before.

What are dental implants made from?

Dental implants have two essential components: the post that serves as a kind of artificial tooth root, and the custom crown that will be secured to the top of the post. The implant post is made of a strong titanium material, which should fuse to the jawbone during the osseointegration process. The custom crown is typically composed of a durable porcelain material, which is color-tinted to provide a very natural appearance.

Do dental implants stain?

Dental implant restorations are virtually incapable of developing stains or discoloration over time. The porcelain material utilized to create the implant crown is not susceptible to staining agents; therefore, the color of the implant crown at the time of placement should remain the same throughout its lifetime.

Can dental implants be whitened?

The same material that makes it virtually impossible for dental implant crowns to stain also makes them impermeable to teeth whitening solutions. With this in mind, we may advise patients who are only receiving a few implants or a single implant to consider having a teeth whitening treatment before the final crowns are placed. That way, the crowns can be color-matched to surrounding teeth that already look whiter, brighter, and healthier.
Please feel free to review Dr. Sheth's biography for an overview of his experience and commitment to the best possible dental implant results. We also invite you to contact us if you have additional questions.
Contact Restorative and Implant Dentistry of Bayside
If you would like to learn more about how we can improve your oral health and confidence through dental implants, please contact us today.