What is Full Mouth Reconstruction?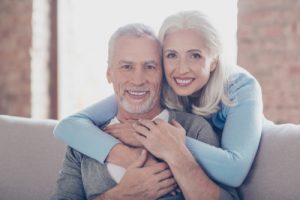 A full mouth reconstruction treatment plan can include a variety of dental procedures aimed at rehabilitating the condition, function, and appearance of the teeth, gums, and/or bite. Treating disease and decay, repairing structural damage, and replacing missing or badly damaged teeth are often the focus of this type of treatment. Patients with complex dental trauma, multiple oral concerns, and/or those who have not received consistent dental care are commonly good candidates for full mouth reconstruction. Several procedures can be performed at once or in phases depending on one's individual needs.
Full Mouth Reconstruction Options
At Restorative and Implant Dentistry of Bayside, our experienced prosthodontist—Sameet Sheth, DDS—offers a comprehensive range of treatment options that can provide effective solutions for an array of dental and periodontal concerns. Dr. Sheth is committed to utilizing proper therapy and the most conservative treatments possible to achieve functional, long-lasting, and aesthetically pleasing results that help you attain a healthier, more confident smile.
Treatment options involved in a full mouth reconstruction may include any combination of the following:
Dental Crowns
Inlays and Onlays
Dentures and Partials
Bridges
General Oral Care
The specific needs and goals of the patient dictate the procedures and restorations that are included in a full mouth reconstruction treatment plan. During the consultation process, Dr. Sheth performs a comprehensive evaluation in order to facilitate proper diagnosis and optimal treatment planning. Based on his findings and the end result you desire, he develops a custom strategy for rebuilding your smile. In certain cases, sedation techniques may be used during treatment to provide you with comfort and relaxation while Dr. Sheth works on improving your smile.
Steps of a Full Mouth Reconstruction
In order to create a healthy, long-lasting smile, Dr. Sheth prefers not to rush his patients through therapy—especially those undergoing full mouth reconstruction. The time, care, and attention he invests in each patient helps reduce the chances that future problems will occur with the work he does. The following are the typical steps of the full mouth reconstruction process at Restorative and Implant Dentistry of Bayside.
Each full mouth reconstruction begins with a consultation, during which Dr. Sheth:

Reviews your medical and dental history
Thoroughly assesses the condition of your teeth, jaw, gums, and restorations with clinical and radiographic evaluations
Prepares comprehensive diagnostic records

Using the information collected during your evaluations, Dr. Sheth will develop the first phase of your treatment plan. This part of your treatment will focus on addressing any detected disease with the appropriate dental and periodontal therapies.
Once your oral health has improved, Dr. Sheth will continue his treatment strategy for properly rebuilding your dental structure. His plan will detail any dental implant procedures you may need and any restorations that will be placed. The aesthetic details of your full mouth reconstruction will be determined during your discussion with Dr. Sheth about how you want your final results to look. Dr. Sheth will provide you with his expertise and guide you through the planning process so that you are able to make the most informed decisions about your care and outcome, and together you will agree upon your new smile.
The remainder of your treatment will depend on the type and amount of restorative care you require. Dr. Sheth will outline the final phases of treatment and provide you with an estimate for how long the process may take. If your plan includes bone grafting and/or dental implants, time must be allotted for proper healing to take place. For other procedures, the teeth will need to be prepared and custom restorations—such as dental crowns, porcelain veneers, bridges, and dentures—must be fabricated in a dental lab according to Dr. Sheth's specifications before they can be placed.
How Much Does a Full Mouth Reconstruction Cost?
Because a full mouth reconstruction includes a variety of treatments and procedures, the cost can vary significantly from patient to patient. If you are interested in a price estimate for the full reconstruction of your smile, a consultation with Dr. Sheth is necessary to determine the total expense. At Restorative and Implant Dentistry of Bayside, we accept dental insurance and would be happy to check on your plan. If we do accept your insurance, our team members can help you learn about your benefits and calculate how much of your full mouth reconstruction may  be covered.
For those looking for ways to finance the cost of dental care, we offer options through a third-party company called CareCredit®. For qualified applicants, CareCredit® provides low- and no-interest loans and flexible payment plans that can make the high-quality care you want more affordable. CareCredit® has a simple online application that quickly provides notification of approval so you can move forward with treatment in a timely manner.
Schedule a consultation with Dr. Sheth by contacting Restorative and Implant Dentistry of Bayside today!