At-Home Dental Care and Oral Health During the COVID-19 Crisis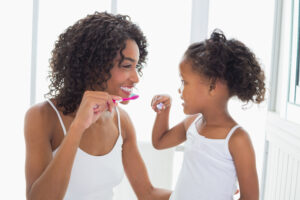 Taking good care of your oral health during these extremely challenging times is just as critical as nurturing your physical and emotional health. Our wonderful community of Queens has been hit particularly hard by the coronavirus, and it is imperative that we all follow the shelter-in-place guidelines and remain in our homes as much as possible. With our office and other dental practices throughout the state and the nation being open only in cases of a dental emergency, it is more important than ever that you have the tools and knowledge necessary to take excellent care of your dental health until we are able to reopen for routine professional cleanings and other oral care procedures.
Healthline, an online health information resource, recently offered several helpful tips on how individuals can keep their teeth and gums as healthy as possible during the coronavirus/COVID-19 pandemic. Here are a few summarized highlights of the guide they provided, which our dentist in Bayside believes can be very useful for establishing vital at-home dental care routines during the crisis:
Be Sure to Brush At Least Twice a Day and Floss At Least Once a Day
One of the best ways to maintain good oral health is by following the traditional recommendation of brushing your teeth at least twice each day and flossing between the teeth at least once each day. Accumulation of plaque can lead to bacterial invasion of the teeth and gums. This can increase the risk of developing a painful cavity, gum disease, and other serious conditions. Regular brushing and flossing can minimize plaque and bacteria in the mouth and go a long way toward reducing oral health risks.
Don't Forget to Clean Your Toothbrush
Even your toothbrush needs a good cleaning once in a while. Viruses and other microscopic organisms can latch onto the bristles and plastic materials of a toothbrush, so it's a good idea to sanitize it regularly. Submerging the toothbrush in a mixture of mouthwash and hydrogen peroxide, followed by a good water-rinse, can be very helpful for keeping your toothbrush clean and fresh.
Rinse Your Mouth Twice Each Day with an Alcohol-Free Mouthwash
A minimum of two daily oral rinses with mouthwash is a good routine to develop, and it's better to use a mouthwash that does not contain alcohol. The reason for this is that alcohol and some kinds of antibacterial ingredients may negatively affect the immune system, so it is best to use mouthwashes and toothpastes that are free of these ingredients at this time. Daily mouthwash use can help control plaque development—even rinsing your mouth with saltwater a few times each day can be good for maintaining a healthy mouth.
Hydrate Often and Maintain a Healthy Diet
In addition to your oral hygiene routines, please remember to drink several glasses of water to maintain good hydration throughout the day. A healthy diet is also essential. Including fruits and vegetables in your diet and reducing consumption of foods that are high in starch and sugar can be ideal for both oral and general health. Also, try to refrain from eating too many hard foods, ice, or candy—or at least be very careful when consuming these items. Biting down on hard or tough food may break a tooth or damage a dental restoration.
Taking the steps necessary to ensure that your oral health is in the best shape possible is vital during this difficult time. By doing so, you can ease the burden on your immune system by allowing it to focus more on fighting off threats to your general health and less on threats to your oral health.
While our office is temporarily closed to routine and elective dental care treatments, please note that Dr. Sameet Sheth is available for dental emergencies. Please call Restorative & Implant Dentistry of Bayside at (718) 428-7474 if you feel that you are experiencing a dental emergency and we can provide you with additional information.
We truly are all in this together, and our community is resilient. Let's continue doing our part to #flattenthecurve, and we look forward to seeing you soon!
Previous Post
Next Post