Dental Implants vs. Dentures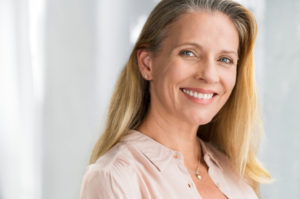 Dental implants are often considered a significant "step up" from traditional dentures, offering patients an innovative option for teeth replacement that is more akin to natural teeth in terms of function, feel, and appearance. However, more conventional teeth replacement options such as full or partial dentures also have their advantages, and may even be a more ideal treatment for certain patients. With this in mind, let's look at some of the major distinctions between dental implants and dentures to illuminate why one option may be better suited to a patient's needs than the other, depending on the circumstances:
Dental Implants
A dental implant is the combination of a titanium post and a custom dental crown. The post is anchored to the jawbone in the area of the missing tooth, where it should eventually fuse to the bone over time and essentially become part of the mouth, simulating the function of a natural tooth root. Dental implants are specifically designed to provide results that are so similar to the original teeth that it is as if the teeth were never lost. While dental implants are often the preferred option for many individuals, not everyone is a candidate for the procedure. In cases where patients do not have adequate jawbone density in certain areas to accommodate dental implants, alternative treatment options such as implant dentures or more traditional denture appliances may be recommended.
Dentures
Traditional dentures remain one of the most popular options for missing teeth replacement even as innovations such as dental implants have changed the field of restorative dentistry. Complete and partial dentures are customized oral appliances that are designed to look like natural teeth, and can be ideal options for patients who have multiple missing teeth and are not good candidates for dental implants. In some cases, patients may qualify for implant-supported dentures, which utilize a select number of implants placed in areas with adequate jawbone density to serve as a stable foundation for a custom denture. In others, a partial denture or a full denture can provide good results without the aid of dental implants. While these latter options will not have the benefits of stabilization with dental implants, there have been a number of advances over the years that have made traditional dentures a strong and comfortably-fitting option for patients who need alternatives to other forms of missing teeth replacement.
The ultimate point is that patients who would like to successfully replace missing teeth have more choices than ever these days, and the best option is dictated by one's individual needs and expectations. Our board-certified prosthodontist, Sameet Sheth, DDS, can talk with you about your concerns during an initial consultation and help you decide upon the most ideal treatment. For additional information on the many options available at our practice, please contact Restorative & Implant Dentistry of Bayside today.
Previous Post
Next Post