Welcome Dr. Arpita S. Patel – Our New Implant Dentist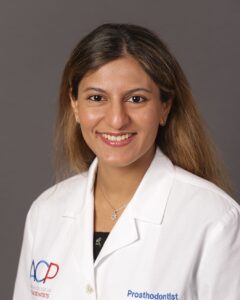 We would like to extend a warm welcome to the most recent addition to our team here at Restorative & Implant Dentistry of Bayside. Dr. Arpita S. Patel is an extensively skilled and experienced prosthodontist and implant dentist, and we are thrilled that she has joined Dr. Sameet Sheth in our mission to provide patients with advanced solutions for missing teeth and other common conditions.
Dr. Patel has spent virtually her entire educational and professional career in the New York City area, graduating from some of the top dental institutions in the nation. She is an award-winning prosthodontist and has had her clinical research published in the prestigious International Journal of Periodontics and Restorative Dentistry. Dr. Patel is also a member of several respected prosthodontics and dental organizations, and she teaches new generations of dental professionals at the NYU School of Dentistry, as well.
From performing single dental implant procedures to providing comprehensive teeth replacement with implant dentures and many other treatments, Dr. Patel is skilled with a variety of options designed to enhance dental health, form, and function with exceptional results.
Please visit Dr. Patel's biography page to learn more about her background and credentials. For additional information, please don't hesitate to contact our practice today.
Previous Post
Next Post