When Should I Consider Dental Implants?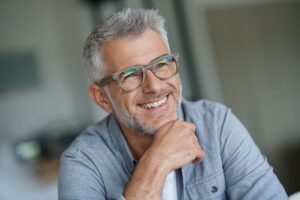 At Restorative and Implant Dentistry of Bayside, dental implants are one of the most sought after restorations to replace missing or damaged teeth. Led by prosthodontist Sameet S. Sheth, DDS, the Bayside dental team offers New York City-area patients restorative, cosmetic, and family dental care. Dr. Sheth and our dentists provide a slew of offerings, including dental implants and other restorative solutions.
A dental implant is a potential treatment option when a tooth is missing or has been extracted.  They are effective at not only restoring function but also at remaining discreet and natural-looking. Other options for replacing teeth can include dental bridges and dentures, but implants can often provide improved stability and functionality for ideal candidates. Implants should be considered when patients are concerned about bone loss and/or changes to their facial shape resulting from a missing tooth. Dental implants may also be the best option when patients are looking for a more stable and secure alternative to a bridge or denture, or when patients want a restoration that looks and feels as close to a natural tooth as possible.
Using dental implants, gaps within smiles can be filled and the optimal functionality of your mouth can be restored. By anchoring a titanium post into the jawbone beneath the gums, the implant can begin to fuse with the surrounding bone and tissue in order to secure structural stability. Implants are generally capped with a dental crown, bridge, or denture that is augmented to match the color of your surrounding teeth. 
Thanks to his training and experience in implant dentistry, Dr. Sheth is able to effectively determine good candidates for the dental implant procedure. Each individual's circumstances will be different and unique, so there is not a one-size-fits-all approach to developing a treatment plan for implants. Instead, a custom plan is created that is uniquely tailored to each patient in order to meet their specific needs. 
Dr. Sheth will be able to determine whether dental implants are right for you at your initial consultation. Once he has analyzed your unique needs, a treatment plan can be developed in order to begin the process of restoring your smile. If you want to know more about dental implants or what Restorative and Implant Dentistry of Bayside offers, contact us today!
Previous Post
Next Post